Episode 14: "The Arm Makes Sense!" -
Show Notes
Episode 1.14 -- "Caroline and the Watch"
Original airdate: February 1, 1996
Written by Mark Wilding
Directed by James Burrows
​
Sincere amore? We know! Elise Laplante joins us this week at the partners' desk for episode 1.14, "Caroline and the Watch"! Put on your best subway map tie and your dressiest rollerblades and glide along with us as we discuss such scintillating topics as hangry Richard, comedy in a pre-"That's What She Said" world, the need for an HR person in The City, emailing "Jimmy" Burrows, and Skimbleshanks: the Railway Cat. Caroline in the City: it's The Sopranos of three-camera sitcoms!
​
​
​
​
​
​
Has this woman ever seen an episode of basketball?
Elise Laplante has worked behind the scenes on TV shows such as Gilmore Girls: Winter, Spring, Summer, Fall, Scream Queens, and most recently, Star Trek: Picard. One time she was offered cocaine at Carrie Fisher's house, which she declined, making her substantially less cool.
​
Social:
Twitter - @elise_laplante ​
Dusoleil Walks Through the Wall:
This episode's Suspenders Lewk:
CATS SHOULD NOT BE EATING CANDY BARS Y'ALL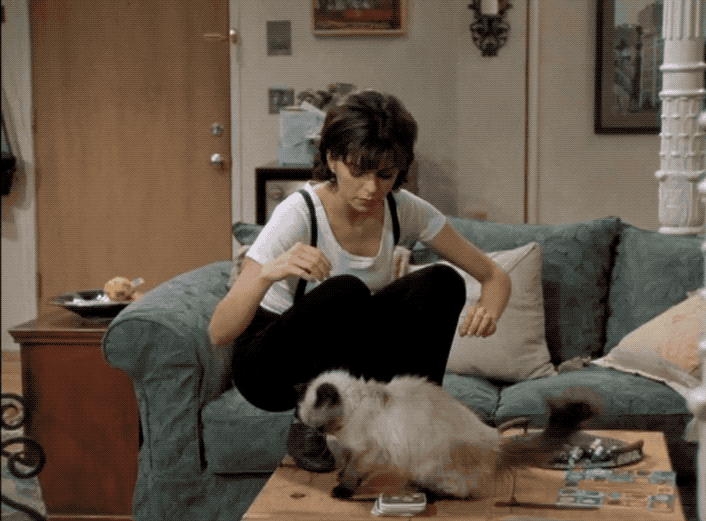 Charlie's subway map tie:
Please enjoy this multipurpose GIF:
Vic and Stella's cozy, plastic-covered Queens apartment:
The adorable Vic and Stella, a.k.a. Morey Amsterdam and Rose Marie!
Sexual tension? Us? (YES, YOU.)
Meanwhile, Del and Charlie get up to some corpse hijinks...
Last but not least, the infamous "Han Solo moment"...